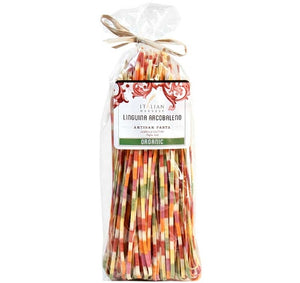 Colored with natural dehydrated vegetables, this delicate colorful pasta is great with butter and parmesan, pesto, or a cream sauce.
Linguine Arcobaleno Organic Rainbow Linguine
Organic Marella Pasta imported by Italian Harvest is a 2013 Silver sofi Award Winner for "Outstanding Product Line"
Pasta by Marella uses the highest quality, local grain varieties and is ICEA certified organic.
Ingredients
Durum wheat semolina, water, dehydrated tomato, chile pepper, spinach, paprika, beet root, and kurkuma.
8.8 oz