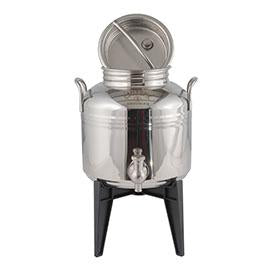 This beautiful Italian-made stainless steel NSF-rated fusti is very easy to clean and can be used for olive oil, as well as for liquids such as vinegar, wine, milk, or other oils.
MINOX FUSTI  3 LTR. W / STAND & SPIGOT
It has an airtight screw-down lid and comfortable handles at the top and a stainless steel spigot. This is the best way to keep olive oil as fresh as possible by protecting it from light and from oxygen exposure.
The fusti can be topped off with inert gas in small spray cans to further minimize oxidation.
Black plastic stand included.
3L is an ideal size for personal use and a great way to save money by buying oil in bulk.
All stainless Steel

Includes Stainless Steel Spigot

Ideal for dispensing Oil, Vinegar, Wine, Water, etc

Made in Italy. Food Grade and NSF certified.
Care & Dimensions
Inside your fusti container is a large white-colored O-ring which should be fitted onto the lid with the flat surface facing outward (away from the lid). Always wash your fusti thoroughly between uses and allow it to completely dry before refilling. 
Cleaning procedures: Wash your stainless steel fusti (including lid, plug, spigot and rubber O-rings) thoroughly before use with hot water and baking soda. Do NOT use soap as it will leave behind unwanted residue. Remember to rinse well to avoid having any flavors left behind in your next use.
Dimensions: 177mm x 184mm or 7"W x 7.25"H -- Tap 1/2"