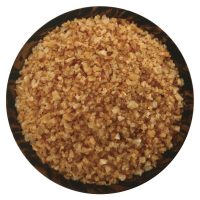 Great for adding heat to your grilled meats! Resealable packaging.
--
Ghost Pepper Sea Salt
---
Product Description
With a taste only for the very daring, our ghost pepper sea salt is the hottest salt in the world! Made from pure, unrefined sea salt and the Naga Jolokia pepper, this salt packs quite a punch.
Best Ghost Pepper Sea Salt
Use it for
Salads
Roasted vegetables
Meats
Pasta
Gourmet finishing
Popcorn
Nutrition
Sea salt, Naga Jolokia Pepper
All-natural
GMO-free
No anti-caking or free-flowing additives or conditioners
Vegan/vegetarian
Lactose & gluten free
Does not contain melamine
Free of artificial ingredients & processing aids
Packaged in a reusable 2.0 v.w screw top tin or a push on top tin
Recipes