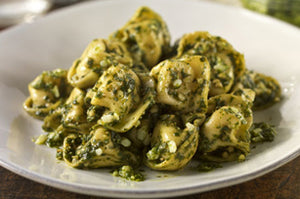 All the freshness and vibrancy of a freshly made pesto!  This light and herbaceous Parmesan Pesto Spice & Herb Blend goes well when tossed with some of our Traditional Extra Virgin Olive Oil on pasta for a flavorful and simple sauce.  
Best Parmesan Pesto Spice Blend
Use it for
Use as a dry rub or a marinade for chicken or pork creating a delicate savory aroma for your dish.  All of our spice blends contain our secret ingredient exclusive to Redstone Olive Oil that boosts the health benefits of each of our blends.

Nutrition
Basil, Parsley, Olive Leaf, Garlic, Lemon, Parmesan, Sea Salt, Black Pepper
Packaged in a reusable 2.0 v.w screw top tin / or a push on top tin