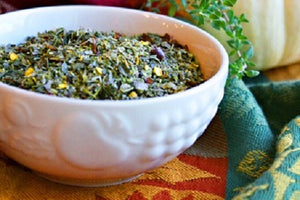 Italian table blend. Hint of heat. Chicken Fish, meats, veggies. Add to Olive Oil for an herbaceous dip. Add an authentic Italian spice blend to your kitchen!  This is an aromatic and herbaceous blend that will take you to the hills of Tuscany transforming your dish into an original northern Italy piatto!

Best Tuscan Sun Herb & Spice Blend
Use it for
Combine the Tuscan Sun Herb & Spice Blend with one of our Traditional Extra Virgin Olive Oils for a decadent bread dip or tasty chicken marinade.  All of our spice blends contain our secret ingredient exclusive to Redstone Olive Oil that boosts the health benefits of each of our blends.
Nutrition
Basil, Oregano, Garlic, Thyme, Rosemary, Fennel, Cayenne, Sea Salt, Olive Leaf
Packaged in a reusable 2.0 v.w screw top tin / or a push on top tin