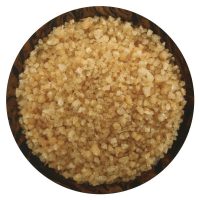 Goes great on chicken, fish, and roasted vegetables! 
We make our Roasted Garlic Sea Salt by infusing natural, hand-harvested sea salt with real roasted garlic.
Roasted Garlic Sea Salt
This is a much improved, very gourmet version of traditional garlic salt. The flavor is out of this world and needs to be tried on absolutely everything. Roasting garlic takes away the sharp bite that raw garlic has and gives it a deep buttery aroma that works well in every place that traditional garlic salt fits.
Use it for
Due to the texture and grain size, Roasted Garlic Sea Salt can be used as both an ingredient salt and a finishing salt, and ideal for BBQ rubs and spice blends, in a dry brine or a marinade, in sauces and soups—even mixed into your hamburger patties.
Nutrition
Sea Salt, Garlic
All-natural
GMO-free
No anti-caking or free-flowing additives or conditioners
Vegan/vegetarian
Lactose & gluten free
Does not contain melamine
Free of artificial ingredients & processing aids
Packaged in a reusable 2.0 v.w. screw top tin or a push on top tin
Recipes