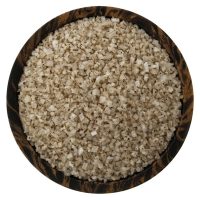 Vanilla Bean Sea Salt is certainly salty, but carries a warm, creamy vanilla bouquet. Made with genuine bourbon vanilla beans from Madagascar and pure, natural sea salt, this delicate blend is a perfect addition to any confection, pastry or baked good. For more adventurous epicureans, try it on roasted nuts and in snack mixes, in spice rubs for pork and duck, and in sauces and salad dressings with chive and fennel.
Best Vanilla Bean Sea Salt
Enhance the layers of flavor in fluffy dulce de leche recipes, sprinkled on top of dark chocolate truffles, or as a natural complement to stone fruit pies and tarts.
Use it for
Desserts
Drink rimming
Seafood
Salads
Asian cuisine
Nutrition
Sea Salt, Vanilla Bean
All-natural
GMO-free
No anti-caking or free-flowing additives or conditioners
Vegan/vegetarian
Lactose & gluten free
Does not contain melamine
Free of artificial ingredients & processing aids
Packaged in a reusable 2.0 v.w. screw top tin or a push on top tin
Recipes